News

The original Master-Studiotapes are back!


The base of subsoil - 24 Track Master Tape is successfuly restored by Thomas Körffer

The original single-tracks are remastered by Carlos Perón

at Audio Art Studios !

base of subsoil - relation (single)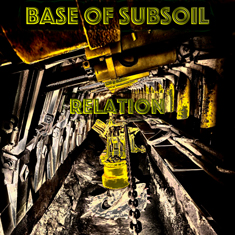 hear now,
buy now!
The original Tapes-Releases are remastered!
The 1. CD Rerelease is finished
or in the webshops like e.g. Amazon
Discovered 2006 a tascam 4-track tape from 1989 with an unreleased song (but the Tape is crashed in 06.2007)
(Series III/III).
Discovery of the 2 missing tascam 4-track tape from 1989 with unreleased songs (24.02.2009)
(Series I+II/III).
Tape restauration process is finished, all 13 tracks are digitalized in 32bit! (10 tracks are still unreleased)
The work goes on, Vocal tracks will be new generated......
24-Track Studio-Tape is new digitalized, with one of the last working Otari machines. In 24 Bit with a perfect quality!
There will be a new mixing session......